Visibility
Visibility system consist  of  eighteen weather stations observe all weather parameters systemic and continually 24 hours  send and save in  the data base to be use for sandstorm and weather forecasting , to provide a public service on surface traffic safety and to manage traffic weather problems in Dubai highways and intercity link roads . these information   use  by operators on duty to support the decision making process and enable early warning on fog and sand storm ( low visibility) ,heavy  rain, extreme  temperature and other weather phenomena .
Fog
Fog is a hazardous weather phenomenon that reduces visibility and thus prevents standard operation on roads, sea, airports. Poor visibility is a common cause o temperature and other weather phenomena f many road accidents in the United Arab Emirates.
Sand Storm
Sand storm is a natural occurring phenomenon, it can pose great challenge for big cities, urban areas and human society living near desert region. The Arabian peninsula is more severely affected by sand storms.
The sand storm can create major issues to the transportation industry mainly the airline landing & takeoff operations, road safety by making the driving conditions more risky. Outdoor work as well as leisure activities are also affected.
The fine dust spread from a sand storm is also a major health concern. It can go into our respiratory system through breathing. These smaller dust particles have a greater potential to cause serious harm to our health and brings increasing risk like allergic reactions, asthma, chest pain & wheezing.
Having sand storm monitoring forecasting system is powerful for us to plan and take precautionary steps to minimize the adverse effects of sand storms.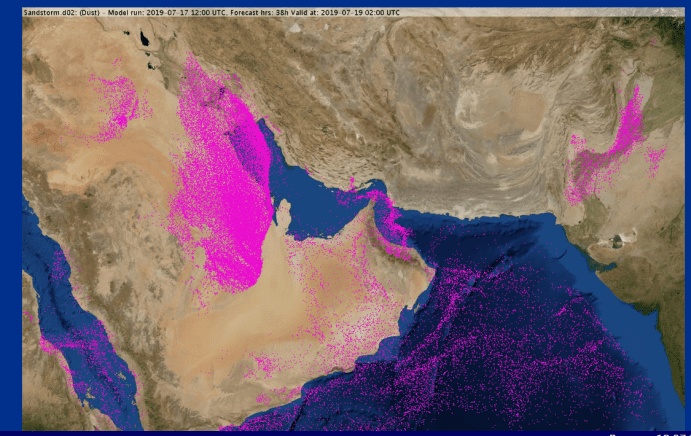 Weather Radar and rainfall
Mini Meteorological Radar MMR is a unique portable X-band weather radar with large functionality integrated in small device. It provides real time insight to weather situation up to 200 km range. It use for rain monitoring and can be further used for watersheds management, global warming adaptation strategies, flood protection, operative weather forecast.
Tsunamis
Tsunami (The Great Wave) are tidal waves triggered because of the high intensity Earth Quake or Volcanic activates at the sea bed Central station for integrated.
Tsunamis are characterized as shallow-water waves due to their long periods and wavelengths. As tsunami leaves deep sea and travels toward shallow coast, it transforms.
Tsunami  travel  much slower in shallower coastal water where their wave heights begin to increases.
Tsunami Monitoring & Early Warning System with central data collection & database established at DM and development of Tsunami monitoring & tidal model for tides & surface current.
Offshore and coastal feature can determine the size and impact of tsunami waves
Tsunami early warning system  is used to detect in advance and issue warnings to prevent loss of life and damage
Tidal Stations
DM has 6 Tide-Met stations along Dubai coast and Dubai Creek to measure water level and meteorological parameters. And also DM has deployed two offshore buoys to measure offshore meteorological and oceanographic parameters. System further integrates 6 existing tidal meteorological stations and 2 offshore buoys. In addition to the meteorological parameters, the buoy also measure water quality like water temperature, and conductivity.
Hydrography survey
Hydrographic Section of Survey Department in Dubai Municipality responsible for all Hydrographic and Oceanographic activities in Dubai maritime zones include  Dubai creek, territorial water  ,EEZ area  and international boundary to cover following  the IHO international  standards .
Hydrographic information is required for the safe, efficient and sustainable conduct of every human activity that takes place in, on or under the sea. Hydrography involves measuring the depth of the water and fixing the position of all the navigational hazards that lie on the seafloor, such as wrecks and rocks.  This is done mainly with specialized ships and boats operating echo sounders and sonars, but also using survey aircraft fitted with lasers.  Useful information can also be derived sometimes from satellite observations.  Hydrography also involves measuring the tide and the currents.
Bathymetry Survey
The conduct of Bathymetric survey for Dubai territorial sea and creeks are done according to International Hydrographic Organization (IHO) Standards Special Order ,full seafloor search with maximum detection capability for Multi Beam Echo sounder System for High resolution seabed mapping and inspection system. And Order1A from the upper areas
Geophysical Survey
The geophysics survey is required on shore and offshore to identify the dedicated  features which found through bathometric survey , here we use side scan system to get imager and geometrical height, marine magnetometer to observe  metal features  and sub bottom profiler to find The buried features
Oceanographic Observations
We  conducting Oceanographic observation of physical phenomena of water this  include Tide , Tidal stream, sound velocity profiler ,current, water temperature and sea bed Grab sample
The Main Objective of Hydrographic survey
1. Management of advanced maritime infrastructure
2. Becoming a global reference for the provision of marine infrastructure data for the Emirate of Dubai.
3. Precise bathymetric survey of full sea floor coverage according international standers
4. produce nautical charts for safe and efficient navigation of ships.
5. Support strategic planning of development of Dubai maritime zones.
For more inquiry  info please contact  Hydrographic@dm.goe.ae